August 2 - Brazilians with heavy hips and buxom busts want clothing that suits their voluptuous forms, plus-size fashion advocates say in this country more commonly known for its string bikini.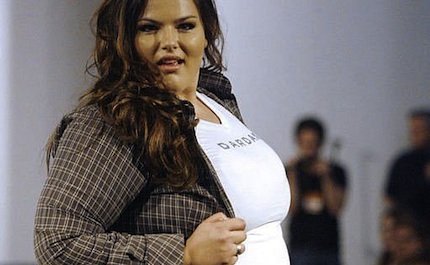 A model presents a creation by designer Dardak Jeans during the Plus Size Fashion Weekend, in 

Sao Paulo

, Brazil, in July 2011. - photo: afp
"If I go to a mall where there are 300 to 400 shops, I will walk and walk and still be unable to find a dress in my size... It's sad and annoying," said Renata Poskus Vaz, a journalist who blogs about plus-size fashion.
Although half of the population is overweight, Brazilian stores prefer to feature clothing designed for thin and sculpted bodies, abandoning much of their curvier clientele who want to wear the styles they see paraded
during events such as 

Sao Paulo Fashion Week
.
However, specialty shops where women can find plus-size jeans, evening wear and even lingerie are emerging, while blogs for voluptuous women also offer style advice.
"Today in Brazil, women have overcome the hurdles of prejudice that used to stop them from entering a plus-size store, which in the past were considered stores for the elderly and grandmothers. But no longer," said Poskus Vaz, who also founded Brazil's Fashion Weekend Plus Size.
This year's Sao Paulo event was held in July and promoted styles for spring and summer 2012.
For 29-year-old Poskus Vaz, a former plus-size model, not all women who wear large sizes are overweight, but many of these fuller women often have trouble finding clothes that fit them.
"'Fashion' was founded by aesthetics that are not the same as 'plus fashion.' But, thank God, there are professionals who are adapting for us strong women," said Thalita Arruda, the 23-year-old creator of the blog "Tamanho GG" (XL size).
Under this new standard, 10 Brazilian brands specializing in sizes 10 and up presented their new collections for next season at the fourth edition of Plus Size Fashion Week.
About 40 models presented these creations made to fit full women while at the same time focusing on great lines and strong colors.
"Robust women have won the right to express themselves. Before, they wore dreary clothes," said Iveraldo Junior, chief of marketing for the Exuberante label. "We are presenting a collection that plays with the Latin world, with hot and sensual colors that move," he added.
"Today, we have the same styles" as thin women, said Melanine stylist Derly Miranda, adding that "well-endowed" women venture out in daring cuts and colors.
Debora Lima, a 21-year-old blogger for "Tamanho GG", said that in Pernambuco state, a poor region in the country's northeast where she lives, it is still difficult to find plus-sized clothes, but that does not stop her from experimenting with new looks and sharing them with other women on her website.
"We are going to show the world that we, the bigger women, the plump and the not-so-plump, can dress well and make our difference," she added. 

by Anella Reta